Mobilization
Mobilization is basically a process in which we contact and reach community to identify and select beneficiary or the trainees for training programme.

Time and again we have experienced that "Community outreach and mobilization are an important and challenging activity in the entire programme and it plays a very decisive role in the success of the programme."
Hence, considering mobilization as one of the strongest pillars of skill ecosystem, Wazir follows a defined strategy and approach for mobilization -
STRATEGY & APPROACH- MOBILIZATION
Research on the area of operation: Before entering into any territory, it's very important to understand it socio-economic environment, its population mix and other topographic features. Accordingly we identify our focus areas depending on our requirement. before going to any area we will identify the per capita income of the area (which helps in identifying low income area), The population mix (for SC, ST and general division), Employment opportunities in the area (to identify the scope of migration) etc.
Selection of the team: Human resource is the most determining factor in implementation of any process/plan. Right identification of the mobilization team is prerequisite for its success. Post identification of the area we always try to hire a local person as mobiliser there, so that he/she can connect with people on local level can speak their language and understand their concerns. Local person not only understands the geography of the area but also knows the thought process of people, which helps him in the correct mobilization.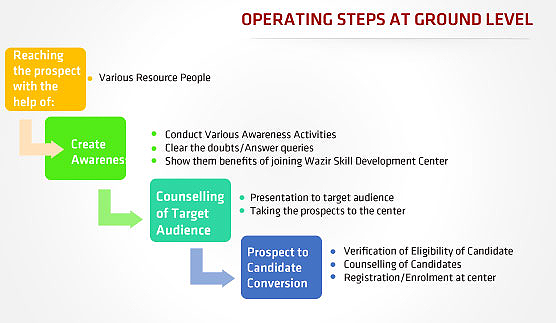 Training of the mobilization team:
and explains the same to parents and candidates. Usually mobiliser knows the programme but is not able to explain properly to the target audience, or sometimes he/she herself doesn't have clarity on certain aspects of the programme and misses key messages in his/her communication which later on becomes a huge challenge to address.
Class room training:
In class room training we explain the programme features, key messages, and other details.
On field training:
Before giving a responsibility to mobilizer, we make sure that we conduct his on field training along with a senior/experienced mobiliser, in which we show him/her how to contact in community, how to conduct meetings, how to explain programme features and how to address parents' queries.